Value and Style in Web Design
Welcome to Net Quality Web Design Nottingham. Now is the time for you to build on your success in business and stand out from the cloud with a stylish website from one of Nottingham's leading Web Designers.
We Make Your Life Easy
Our central focus is that getting your business online should be very simple. What you ask for is what you get.
Do you want lots of control with an easy to use content management system? You got it.
Do you want your web designer to keep control so all you do is make a simple phone call or email? You got that too.
Computers, Tablets, Smart-Phones - 21st Century Web Design
All designs come with custom made stylesheets that let your site adapt to the screen viewing the website. PC, tablet or phone, landscape or portrait, your website will always look great with a responsive design from Net Quality.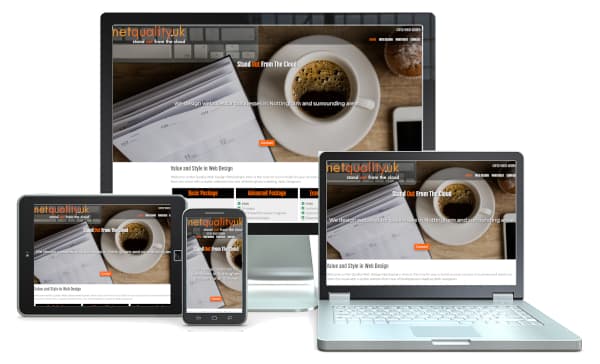 Some websites have a separate mobile website but our more modern techniques mean everyone can visit your main website and still get the right experience appropriate to their device. And if they turn it round to landscape or portrait, it reshapes itself on the fly.